Author Presentations for
Elementary Students
"[Barbara's] ability to tie together the relationship between reading, writing, creative expression, story telling and the [author's] process … is nothing short of masterful. [Her] technique in presenting to large groups of varying ages absolutely blew my mind!"
-Margaret Marchand, PARP Chair, St. Dominic's Elementary
WRITE OUT LOUD!
Grades K-6
In this lively and informative presentation, Barbara Garriel shares the process of creating a book from an idea to a finished product. She displays this process through her picture book, I Know a Shy Fellow Who Swallowed a Cello, and non-fiction books, including:  Wolves and Their Ways, Underwater Cities – The Coral Reefs, and Endangered Sea Life, by providing her writer's notebooks, drafts, illustrator's sketches, revised works, and proofs. A PowerPoint slide show, enlarged illustrations and a puppet allow for an exciting and revealing program. Optional writing workshops are a natural complement to the presentations.
"[Barbara's presentation] was more than just a reading – [it] was a comprehensive LANGUAGE LESSON."
-Kathy Polzer, Speech/Language Pathologist, Lynwood Ave. Elementary
To schedule a program, please click here
WRITE OUT LOUD2!  GET REAL WITH NON-FICTION
Grades 2-6
With this informative program, Barbara focuses on the world of non-fiction through examples of her books, including: Sharks, The Underwater Life of Rivers, Wolves and Their Ways, and Underwater Cities – The Coral Reefs. The author encourages students to recognize and utilize the features and characteristics of non-fiction in their reading and writing. Barbara shares research and writing tips, works-in-progress, and on-location anecdotes from outside and inside the home and professional life of an author.  Her environmental books have high visual interest and appeal and make for excellent tie-ins with Earth Day and Environmental studies programs, and follow-up writing workshops.
"The "Write Out Loud 2" – Nonfiction writing presentations were exceptional.  Ms. Garriel explored various genres within nonfiction such as biographies, brochures, question and answer formats, and other informational texts in order for students
to gain a deeper understand of the use of text features within these nonfiction texts."
-Bree Hipperling – Literacy Coach, Sachem Central School District
To schedule a program, please click here
SING AND READ OUT LOUD! – TUNE IN TO BOOKS
Grades K-3
The author presents her picture book and original song, I Know a Shy Fellow Who Swallowed a Cello, in this sing-and read-along program. With guitar in hand, she invites students to learn about and sing songs of various composers that have been made into books. The program includes an engaging narrative, age-appropriate songs and books, puppets and a slide show.  Students are encouraged to sing and read out loud!
To schedule a program, please click here
OUR FEATHERED FRIENDS
AN INTRODUCTION TO BIRD WATCHING
Grades K-6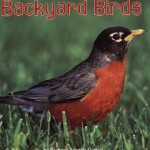 Ms. Garriel offers this introductory program into the wonderful world of birds. She is an avid bird watcher, author of Backyard Birds, long-standing member of The North Shore Audubon Society, and a former advisory board member of the Theodore Roosevelt Sanctuary and Audubon Center.  Barbara covers the basics of what constitutes a bird and which birds you might expect to see in your backyard or schoolyard. She offers information on what you can do to attract birds and how to identify their differences. This program concludes with a bird walk.
Click here to: