Presentations for the General Public
"Barbara deftly draws upon her talents as a teacher, author, and singer-songwriter to masterfuly weave an engaging, insightful program that relates her interesting life/professional experiences while teaching useful skills."
Fred Seiden, Co-President, RSCS
WRITE OUT LOUD!
AN AUTHOR'S JOURNEY FROM IDEA TO PUBLISHED BOOK
This program introduces the audience to Barbara Garriel and her work as an author. You will witness the journey from writer's notebook to early drafts and illustrator's sketches, through revised work, final copy, and the submission process to press proofs and first bound copies of her children's picture book and non-fiction science books.  The author also shares the process of writing and recording the original song she created, which accompanies her picture book, I Know a Shy Fellow Who Swallowed a Cello.
To schedule a program, please click here
DREAMS DO COME TRUE!
FROM THE CLASSROOM, TO THE PAGE, AND BACK AGAIN
There is a saying that everyone has at least one book in them! If you think you do, join Barbara as she shares her journey from the elementary classroom and falling in love with children's books to becoming a published author, songwriter, and presenter.  Barbara offers tips on how to get started: from books to help you launch into writing, to being part of a writers' group, to professional conferences and organizations, to submission information.
Part B: Optional extension: on-going writing workshop for beginning adult writers and those who would like to get re-started with their own writing.
To schedule a program, please click here
OUR FEATHERED FRIENDS
AN INTRODUCTION TO BIRD WATCHING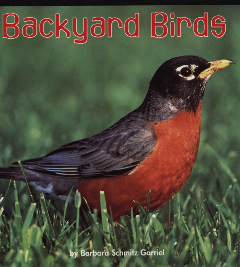 Barbara offers this introductory program into the wonderful world of birds. She is an avid bird watcher, author of Backyard Birds, long-standing member of
The North Shore Audubon Society, and a former advisory board member of the Theodore Roosevelt Sanctuary
and Audubon Center.  She covers the basics of what constitutes a bird and which birds you might expect to see in your backyard. She offers information on what you can do to attract birds and how to identify their differences. This program concludes with a bird walk.
Click here to: