Activity Guides
I Know a Shy Fellow Who Swallowed a Cello

-


Resource and Activity Guide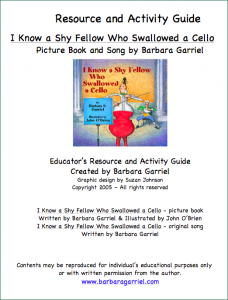 This supplemental, comprehensive guide accompanies I Know a Shy Fellow Who Swallowed a Cello.  It is packed with a variety of integrated curriculum suggestions, activities, and games to create, like "Shy Fellow Concentration", "Go Bellow", "Tic Tac Toe" and "Bingo".
It offers teachers, parents, and children the opportunity to extend the learning fun based on the book. Included are word searches, criss-cross puzzles, word scrambles, a recommended book list, and more.
These materials can be offered to students for independent learning centers and for parents to use at home to support your child's literacy development.
Contents:
Interdisciplinary Curriculum Suggestions
Tic-Tac-Toe game board and pieces
Word and Picture Bingo playing cards (6 and 4 respectively) and Caller's cards
"Concentration" OR "Go Bellow" game cards (interchangeable pieces) and Directions
Word Scrambles, Word Searches
Matching Game and Verb Builder
Word Builder and Criss-Cross Puzzle
Shy Fellow and Bell Maze and Let's Make Music – directions to make instruments
Music Related Activity sheet and Suggested additional reading list
12 Take-Home Thematic Backpacks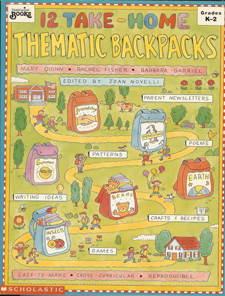 This teacher's guide offers twelve grade-appropriate themes, including bears, insects, transportation, and friends, which are supported by recipes, patterns, articles, activities and more. It also includes descriptions and benefits of the backpack program and how to get started. The book is designed to help teachers promote a home-school connection by offering parents and their children opportunities to read together and to share fun book-based activities in an easy-to-use format.
Click here to: