Professional Development for Educators
"Although we read and hear about what are 'best practices' in education, we rarely get to see someone else model it for us."
-Kerry Berger, Teacher, Wenonah Elementary School
LAUNCHING A WRITER'S WORKSHOP
For Elementary Teachers
This workshop offers engaging and educationally sound techniques, strategies, and tips to create a writer's workshop in an elementary classroom. Barbara's tested and "user-friendly" methods allow you to assist your writers in generating ideas, improving the quality of their writing, and becoming actively engaged in the entire writing process. Suggestions on keeping notebooks, creating routines, and working through "writer's block" are also covered.
To schedule a program, please click here
LITERACY BACKPACK PROGRAM – A HOME-SCHOOL CONNECTION
for Pre-K to 3rd Grade Teachers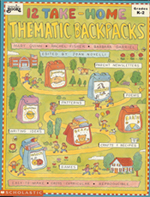 Co-author of 12 Take-Home Thematic Backpacks, Barbara shares the "how-to's" of setting up a take-home and/or center-based literacy backpack program for your classroom. The backpacks include literature and related activities for children to do independently in literacy centers or at home with their families.
This program is based on the research that, if children are read to by their family members, and surrounded by books, then children will read more and their reading standards will improve. Participants will be shown examples of thematic backpacks and have the opportunity to create their own.
To schedule a program, please click here
BOOKS AND MUSIC – A NATURAL HARMONY
for Early Childhood, Primary, and Elementary Music Teachers
This is an interactive workshop where teachers are invited to create connections between literature and musical themes. Barbara offers a myriad of interdisciplinary activities and literature suggestions with musical topics for your classroom. She also shares suggested curriculum ideas in combination with her book and original song,
I Know a Shy Fellow Who Swallowed a Cello. Bibliography and list of activities are included. Optional Resource and Activity Guide is available.
"Your presentation was very well received and we would like to share comments made by your audience: Excellent… provided concrete uses in a motivated, fun, and engaging way.''
-Kate Davern, Eastern Suffolk BOCES
Click here to: